A technical team with demontrated lateral thinking, technical creativity and several Patent Awards is behind the StorEn venture.
Decades of experience in Vanadium Flow Batteries and PEM Fuel Cells that support the fruitful generation of new technical solutions.
​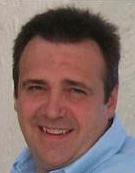 Carlo Brovero
Founder & CEO
​
Carlo started his corporate finance career in 1991 in London at County Natwest, the merchant banking division of the National Westminster Bank.
​
Subsequently in 1996, Carlo was a director at Market Capital Corporation, a corporate finance boutique, and a partner at Accretive International.
​
Carlo structured several M&As and IPOs on four different Stock Exchanges, such as the IPO of GoAdv (now Populis) on NYSE Alternext .
​
Carlo holds a MBA degree from Aston University, and being passionate about soccer, a MBA in Football Industries.
​
Angelo D'Anzi
Founder and CTO
​
Angelo was the CEO and CTO of Arcotronics Fuel Cells, a division of Arcotronics Nissei now Kemet (NYSE: KEM), subsequently acquired by Morphic AB, a group of companies listed on the Stockholm Stock Exchange, Angelo was retained by Morphic Fuel Cells as CEO.
​
In 2013, Angelo is the founder of Proxhima, a vanadium flow battery company, sold to the Gala Group in 2015 a public utility company.
​
Angelo holds 10 WIPO patents in VFBs, Fuel Cells and cogeneration.
​
Angelo received the 2003 Sapio Award in the Energy and Transportation category with a paper titled "Technological Transfer between Research Institutions and Private Companies in the Polymer Electrolyte Fuel Cell Technology".
​
Angelo holds a MBA degree from the LUISS Business School.